Inflation in 2022 and What This Means for Investors and Start-ups
It is common knowledge that there is too much inflation. Everyone is experiencing price increases in most goods and services. In the USA, the Personal Consumption Expenditures (or PCE) index is running at 5%. This is the inflation indicator most used by the US Federal Reserve, and it is clearly far above the 2% target.
Inflation has a strong cyclical component: when economies grow above trend and start 'overheating,' excess unsatisfied demand pushes prices higher. In order to reduce inflation, interest rates have to increase to reduce demand and economic growth.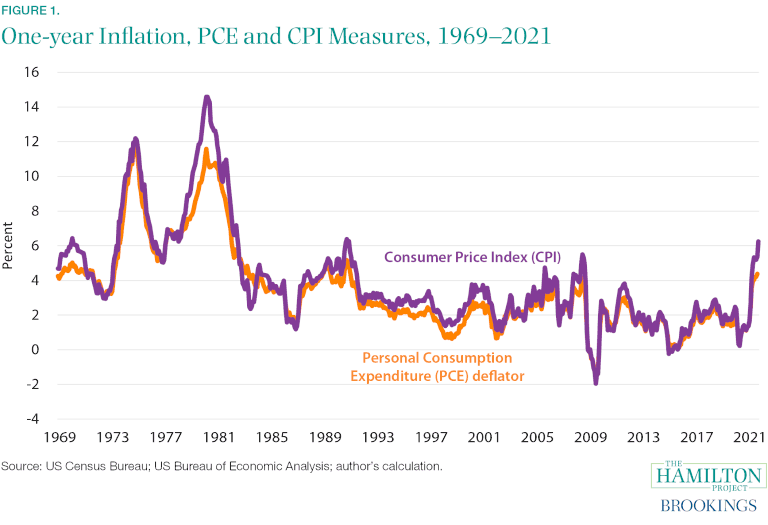 Here comes the problem.
If the excess 3% inflation were to be purely cyclical, one would need a very deep recession to get rid of it. Hence investors' worries (and therefore selling) due to the US Federal Reserve determination to rein inflation back in towards their 2% target.
Many non-traditional investors are now looking at the start-up world for early-stage investments but, in practice, one would need to consider what would happen if interest rates were to go up quickly and cause a recession.
According to Hadron Capital's Marco D'Attanasio PhD, "most companies and business models do not do well during recession, so investors will likely lose a lot of money due to the loss of value of their investment portfolios."
One might also argue that, in the case of start-ups, funding options would likely reduce as investors devote their attention elsewhere. It would appear that nothing could be further from the truth since, according to PitchBook's Senior Analyst Nalin Patel:
"VC deal value with non-traditional investor participation notched a new record in 2021. Capital deployment was relentless as non-traditional investors sought long-term outlier returns from high-growth areas. Non-traditional investors were drawn to emerging start-ups for strategic partnerships and synergistic opportunities. Emerging industries including food delivery and production enticed non-traditional investment in 2021."
Despite uncertainty stemming from the COVID-19 pandemic and macroeconomic volatility, particularly rising inflation, VC-backed companies have attracted copious amounts of capital from wealthy backers.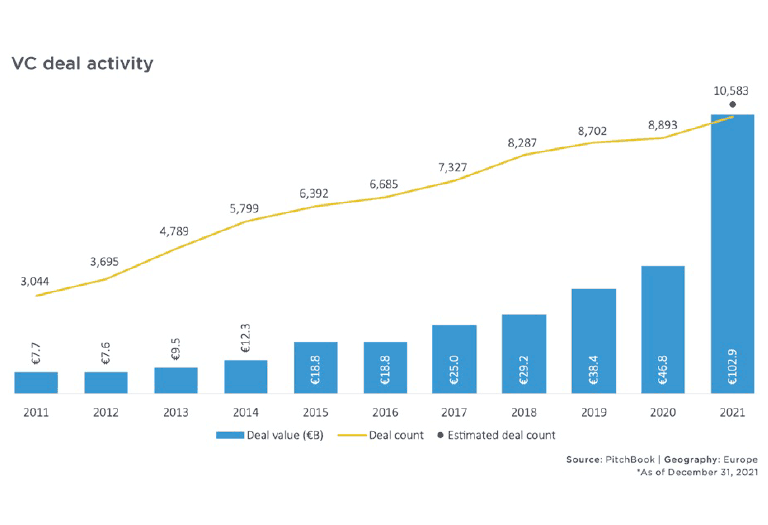 One should note that inflation is a cyclical event; in other words, almost every economic expansion follows a recession to restore better financial conditions. The transformation of economic processes towards more sustainable ones is structural, so sustainability-led businesses should be less affected than the non-sustainable ones.
The current high inflation is also the consequence of the pent-up demand that was accumulated during the COVID crisis. Given the extent of the demand suppression during the pandemic, it is likely that this extra demand is having strong effect on prices. The good news is that the post-COVID demand spur is transitory in nature and should soon tail off. Such a scenario should ensure a slower increase in interest rates by the world's central banks, and a longer economic expansion. In D'Attanasio view, "this would create relatively benign conditions for investors and start-ups."
In Europe alone, the number of completed VC deals reached a record 10,583, thus indicating that rounds are growing in frequency as well as magnitude across the European VC landscape. Moreover, in recent years, non-traditional investors, including investment banks, private equity firms, hedge funds, pension funds, sovereign wealth funds, and corporate VC (CVC) arms, have significantly increased their exposure and appetite for investing in start-ups.
In 2021, according to PitchBook, the VC deal value with non-traditional investor participation notched a record eye-watering €78.4 billion. Capital deployment from non-traditional sources has been relentless as investors have sought long-term outlier returns from high-growth areas.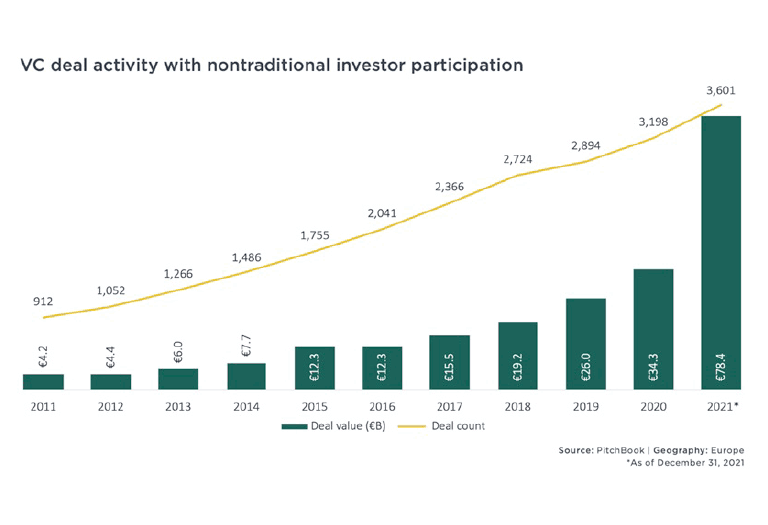 Inflation should decrease in the near future thanks to abating temporary effects of the post-pandemic economic acceleration. Will inflation decrease fast enough to make central bankers comfortable that interest rates do not have to be raised so much to destroy the economic cycle though?
D'Attanasio believes it is impossible to tell right now. The outcome of this inflation cycle will be data-dependent, with several dramatically different scenarios possible. This is a high-stake game with a series of uncertain outcomes. The only certainty is that financial markets are likely to stay volatile and over-react to future data on inflation.
According to PitchBook, VC-backed companies have offered pandemic resiliency and attractive growth prospects for investors that may have experienced downturns in other parts of their portfolios of financial assets during the pandemic.
Perhaps the strongest point of convergence between D'Attanasio's and Patel's views is the fact that, for investors, the current inflationary cycle requires caution, especially with regard to the investments in the business models that do well in a strong economy (i.e., the cyclical businesses).
Businesses with less cyclical characteristics (sustainable or impact tech start-ups, for instance) are looking increasingly appealing since global supply chain issues and rising prices have hampered international businesses and trade. It is clear that tech-enabled VC-backed companies have been less affected by both the pandemic and inflation, and these created – and continue to create - an attractive investment proposition for non-traditional investors.